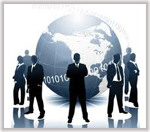 Achme Lasertech as an offshoot of the well known Achme Lasertech, puts behind a firm and distinct reputation of over three decades, significant market standing and performance credibility, in Mumbai and the neighborhood states. Our beginnings were modest, but our efforts were determined and steady, and here we stand this day on the threshold of contemn plating a nationwide presence, truly humbled by the faith of people in us.
Achme Lasertech is now run by a team of young dynamic and highly enterprising second generation professionals who are thoroughly qualified, knowledgeable, experienced and highly creative and who have now given a new direction to the enterprise on the whole.
The company is monitored by the core team who command an excellent knowledge of product engineering, design and marketing. Their outstanding attributes and professional competence have earned the company excellent accolades and have put the company among the forefront, with a taste of rejuvenated success.
We are now poised to take the company to the next level of performance on par with major players in the country.
Our Manufacturing setup includes :
1. Laser Cutting Machine (2 Nos)
 Capacity To Cut The Material.
• MS up to 10 mm
• SS up to 8 mm

2. CNC Press Break Machine (160T)
• Capacity 160T
• 3 Mtr Range
3. TIG & MIG Welding Machines
4. Rolling Machine & Other related setup
Our Inspection Facility
 Surface table Size 900x 1200 mm
 Micrometer 0-25, 25-50, 50-100 mm
 Vernier 150mm, 300mm.
 Bore dial gauge 18mm to 150mm
 Slip Gauge
Our Man Power Strength
 6- Engineers
 8- Skill Operators
 6- Semi Skill Operators
 4-office staff
 1-Manager 
 20-Helpers

Our Tax Numbers Are
VAT  TIN    27840573241V W.E.F. 14-NOV-2006
CST  TIN    27840573241C  W.E.F. 14-NOV-2006         

Central Excise Registration Number Is: AAFCA8748PXM002